6 pm: Leave for cruise. Travel via South Lake Union Trolley (15 minutes), foot (30), cab (10) or Uber (10). Click here for travel information.
6:30 pm: Boarding begins at Lake Union Park, 860 Terry Avenue North, Seattle
The boat, My Girl, will be docked on the public dock just to the left of the big white MOHAI building. We'll have people directing guests, so watch for signs that say "Adam & Amy's Welcome Cruise."
7 pm: Boat departs for three-hour tour
10 pm: Boat returns. Travel back via cab. (We'll be calling a bunch.)
Please note that the cruise is for our adult guests, and there will be a cash bar on board.
Friday, July 20, 2012: Free day!
6 pm: Leave downtown for Ray's. Travel via cab or Uber (20-25 minutes). Click here for travel information.
6:30 pm: Guests arrive at Ray's, 6049 Seaview Avenue NW, Seattle
7 pm: Ceremony begins. Ceremony immediately followed by dinner, drinks & dancing
12:30 am: Buses bring guests back to Sheraton & Warwick
Get the Guide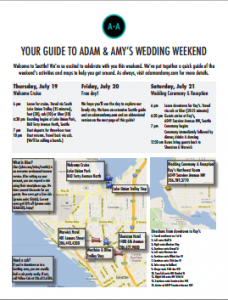 We've created a handy one-page guide to our wedding weekend — complete with the schedule, maps, a sightseeing guide and other key info.
Download it, print it and hand it to a cabby when in need. We'll also have copies available at the hotels.